Gun Store in Loveland, OH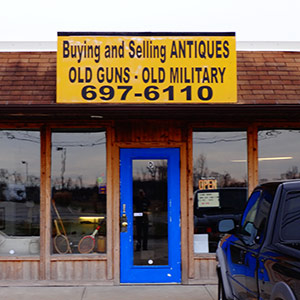 For the largest selection of antique firearms and World War II memorabilia in Cincinnati, visit one of the best gun shops and antique stores in the Loveland, Oh area at Antiques Unique! Our gun experts are open to the public, along with our extensive selection of rifles, shotguns, flintlocks, pistols and more! Bring in your piece of American history to learn more.
The history of our country has been written time and time again on the battlefield and through the years, weapon design has evolved to fit the technology of the times. Today, some of the most advanced weapons in the world are used by our armed forces, but less than a century ago, the world's bloodiest war was fought with an entirely different brand of firearm. And though the guns used by past generations in World War II may look ancient in comparison, they serve to tell a defining story of our past. At Antiques Unique, we're proud to showcase the largest selection of World War II firearms and other period antique guns of any gun stores in Loveland, OH, keeping the stories of the early 1900's alive in the memorabilia that we stock.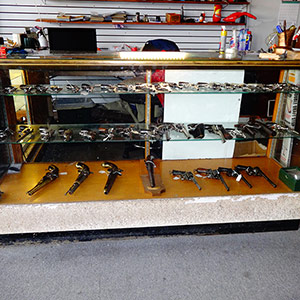 If you're seeking to learn more about antique firearms and guns in Loveland, OH or are interested in seeing other historic firearms, manufactured pre 1899, Antiques Unique is your number one destination as both a gun shop and antique store. From a standard-issue sidearm to World War II issue helmets and firearms, we're proud to cater to the antique collector in you. Our historical expertise as a gun shop is unmatched, giving us the skills needed to inspect and address any heirlooms or memorabilia that you may have. Contact us today! We're delighted to cater to all of your antique needs and offer a number of services that have made us a credible antique broker since 1998, including:
We carry a vast assortment of historic antiques, along with WWII collectables.
We proudly address antique and antique firearm needs in Loveland, OH and the surrounding areas.
We are a proud member of the Ohio Antique Gun Collectors Association.
We have the largest selection of antique firearms and historic collectibles in Cincinnati.
We specialize in customer service.